About the Moen Voss Collection
Among PlumbersStock customers, Moen Voss faucets are extremely popular. As you'd expect, Moen made this collection with lots of fun features and beautiful designs. Updating your bathroom with the Moen Voss collection is a great way to go. If you are looking for replacement parts, we've got them.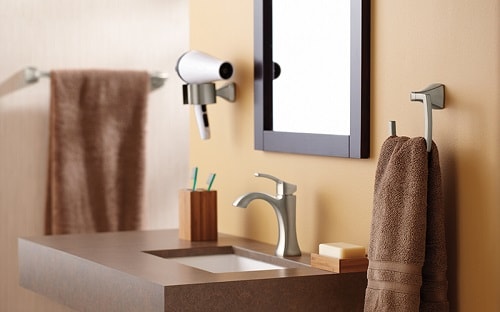 Types of Moen Voss Products
In this collection, there are no sinks or bathtubs, but aside from that, the collection offers you just about everything you need to complete a bathroom renovation project. The Moen Voss collection includes:
Hair Dryer Holders
Lavatory Faucets
Lighting
Robe Hooks
Safety Grab Bars
Shower Heads
Toilet Paper Holders
Towel Bars
Towel Rings
Tub Spouts
Valve Trim
If you can't locate the Moen Voss faucet, part, or accessory, please get in contact with us and we will help. If you are working on a simple repair project, we can get you the part or accessory that you need.
Voss Features
ADA compliance - The Americans with Disabilities Act offers better usability for the physically disabled.
LifeShine - This finish technology resists corrosion and flaking for the lifetime of the products. The way it works is the finish is in the surface of the fixture, not on it. This helps to guarantee that the finish lasts longer.
M-Pact Common Valve System - This is a catch-all valve system. You can upgrade your faucets without replacing the rough plumbing.
Moentrol - This is a pressure-balancing valve cartridge that offers pull-on/push-off volume controls.
Posi-Temp - This cycling valve technology is easy to install and built with durable brass construction. It makes it easy to replace the faucet without having to remove the guts of the install.
WaterSense - These faucets meet EPA guidelines. The beauty is you make better use of less water, allowing you to conserve the environment and save on your utilities.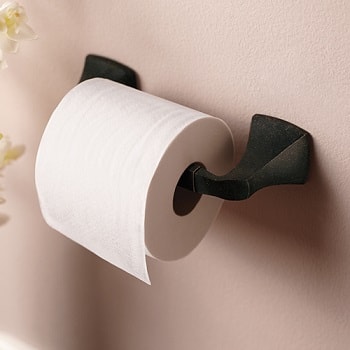 There are more features found within the Moen Voss collection, so shop around and compare. For example, low-lead compliance means the products meet state and federal regulations.
Voss Finishes
As is the case with many Moen collections, they offer the following three finishes:
Chrome
Brushed Nickel
Oil Rubbed Bronze
Buy Moen Voss Faucets, Parts, and Accessories
We have great prices on the Moen Voss collection, so whenever you need a replacement part, a faucet, or an update to your entire bathroom, turn to the plumbing supply experts at PlumbersStock. We'd love to see pictures of your remodel, so please post them to social media and share it with us.