About TOTO Promenade
Our customers love TOTO products and if you need to update a half-bathroom or full bathroom at an affordable price, then TOTO Promenade is an excellent choice. The Promenade sinks are both elegant and and the pedestal options are compact, so they fit in small spaces. Of course, the Promenade toilets are a perfect match for the sinks. Keep in mind there are two editions in this collection, the Promenade and the Promenade II. As you'd expect, we have got great savings on both.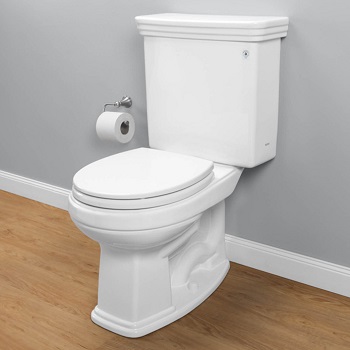 There are many features that set these toilets apart from everyday solutions and you should be familiar with each so that you can make a purchasing decision with a full understanding of what you'd be passing up if you don't choose a Promenade toilet. This is a great way to stretch your dollar and get the most bang for your buck, but it's not exactly the cheapest option. Don't let the price tag scare you. You will love your new toilet.
The Original Promenade Toilets
Whether you are looking for the original Promenade or the Eco Promenade, you can't go wrong with either. The original was not the most water efficient and it only comes with a two-piece option, but it did offer the following features:
G-Max flushing - this high powered flushing system operates off 1.6 GPF (gallons per flush).
CeFiONtect - this is a ceramic glaze technology that ensures a cleaner toilet for the long run with an ion barrier. Every Promenade toilet has this feature, except the ebony options.
Eco Promenade
TOTO then released the Eco version, which operates off less water and includes other very useful features:
E-Max flushing - is much like the G-Max, but it operates off just 1.28 GPF with the use of proprietary siphon jet technology.
CALGreen - meets California-specific green building standards.
WaterSense - this certification means that it is a high efficiency toilet. It also has a minimum soybean paste flush score of 350 uncased grams.
Universal Height - the 16-1/2" of height is universally regarded as the best height for the majority of users.
ADA Compliance - these toilets are ADA compliant which means that it is easier for people with disabilities to use than non-ADA toilets. The round bowl version is not ADA compliant.
Promenade II Toilet Features
In this case, you have your choice of either a one-piece toilet or a two-piece toilet in various colors. The Promenade II offers all the most upgraded features that you see above from previous models, but it replaces the G-Max and E-Max with the Tornado Flushing System. The user can choose either 1 GPF or 1.28 GPF and get the most out of the water with this TOTO technology. This all means you get a cleaner toilet bowl with less effort.
Consider upgrading your Promenade II with a TOTO Washlet electronic bidet seat. This is the future of bathroom plumbing. It's more convenient, comfortable, and more hygienic than traditional alternatives. They are also very easy to install.
TOTO Promenade Sinks
This collection includes options for self-rimming sinks, undermount, and pedestal. The sinks are made for two-handle faucets and they are very stylish. There are options for deep basins, which offer convenience for a number of reasons.
Promenade Colors
Whether you go with the one-piece or the two-piece (tank and bowl separate), there are five elegant and beautiful colors from which to choose:
Cotton
Colonial white
Sedona beige
Bone
Ebony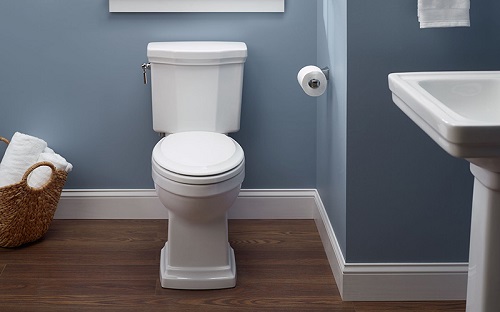 As you can see, we've got what you need to match your existing bathroom design. Remember that the ebony option does not have CeFiONtect technology (because of the color, it doesn't really need it).
Save on TOTO Promenade
What are you waiting for? We can deliver your new Promenade II toilet right to your door. If you have any questions about the installation, how the toilets work, or anything else relating to the products, please contact us (chat, email, call). If you found this information helpful, please share this page in social media! We'd really appreciate it.
If you don't find what you need here, keep in mind we have a huge selection of toilet tanks, bowls, and one-piece toilets from many different trusted brands.