There are so many great advantages to using a wood-burning stove in your home. In ancient civilization, that was the only method they had to heat their houses. Still today, many individuals are choosing a wood-burning stove as a supplementary and efficient method for heating their homes. Here are some of the main advantages of a wood-burning stove in your home.
One of the best-kept secrets at PlumbersStock is that we have a huge selection of discount fireplaces, parts, and accessories, but you have to be logged in to see these deals. Once logged in, you can find our fireplace supplies here.
List of Benefits of Wood-Fueled Stoves
Here is a quick list of important selling points for a wood-burning stove. This list excludes some crucial considerations, like what the current infrastructure of your home is. Certain types of builds in specific areas of the country will make a stove an unnecessary feature unless you like the aesthetics. For others, it could provide both great practical benefit and interior design quality.
Saves You Money
The use of a wood stove in your home will reduce your heating bill. Many individuals who own a wood-burning stove will ultimately use their stove as an essential heat source throughout the long winter months. If these individuals keep their fire burning on a consistent basis, their heater in most cases will never even turn on. This will not only keep their gas bill for their heat extremely low but will keep their house warm on all winter long. We recommend that you install a wood-burning stove on a lower level in a central part of the home for most efficient use of its output.
Great for Emergencies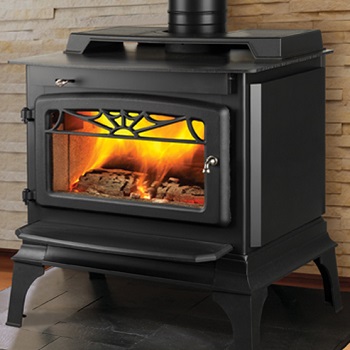 Not only can a wood burning stove save you money, but it's also great for emergencies. Have you ever experienced a power outage on a cold winter night? If you have you know that your home can get pretty cold. When you have a wood stove in your home you can conveniently heat your home without any power at all. Wood burning stoves are also a great way to cook food in an emergency. If the power is out, or you can't use your cooking stove for some reason, you can warm your food on the top of a wood stove. Many individuals turn to their stove anytime an emergency comes their way.
The Use of Firewood Protects Against Forest Fire
During the long hot summer months, fires can start easily in the mountains with the dry fallen trees that would abound were it not for the demand for firewood. By collecting the deadwood, and cutting it up for firewood, you are doing your part to protect the beautiful mountains around you.
Adds Style to Your Home
Wood burning stoves give a unique style to your home. Vintage and rustic home decor are really in right now. With a wood stove, you can dress up your home to give it that vintage feel. You will love the way a wood-burning stove will look in your home and will love all the compliments you get on it as well.
Heats Your Home Comfortably
Have you ever had your heater running for what seems a long time and you still couldn't get warm? With a wood-burning stove, you will find that your home will heat much more quickly and evenly. Once you give your house enough time to properly warm up it will not only heat evenly, but it will also stay warmer longer as well. If you are looking for something to give your home that warm comfortable feeling a wood-burning stove is just the thing.
Heating Your Home with a Wood Fueled Stove
There are so many great advantages of a wood-burning stove in your home. Not only does it save you money, keeps you safe in an emergency, protects the mountains, but it offers the most comfortable environment in cold winter months. You will love all the amazing things that a wood stove can do for you. Get your wholesale wood burning stove right here at PlumbersStock where we have a huge selection of HVAC products, including lots of fireplace parts and accessories.
Related resources:
How to Install a Wood-Burning Stove
Wikipedia: Wood-Burning Stove