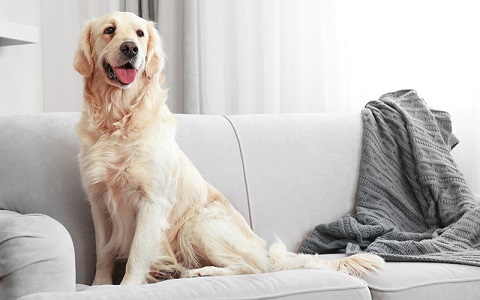 Indoor animals are becoming more and more popular in the world today. It's almost a rarity to go to a neighbors house and find a home without pets. Because indoor pets are growing in popularity, there are products designed specifically to counter some of the negative effects of pets. The cleaning aisle at the grocery store offers all kinds of home cleaning products that can treat the smells pets create. In some cases, you will need more than just cleaning products. If you are worried about the purity of your air, which is why General Aire and Honeywell make electronic air purifiers.
Turns out the best air purifier for pets is the same as the best air purifier for people without pets. A quality purifier will clean the air of odors and contaminants whether you have pets or not. So your focus should be to simply:
Find the Best Air Purifier for Your Home
There are many great air purifiers out there to tackle all the smells which come with having a pet. Some of the very best kind is the Honeywell air purifiers. This particular brand does a great job at fighting impurities in the air from odors and pet allergens. It also helps reduce pet hair and dander. If you have a pet in your home, Honeywell does a great job at tackling all the odors and allergens which come with them.
Considerations to Make
If you are purchasing an air filter to help you deal with your pet problem, you want to make sure it's a good one. It's important to take a few things into consideration before making your purchase.
How Much Energy Does it Consume?
Anytime you are installing an air purifier in your home you want to check out its efficiency. Check over the product details to see how much energy your filter uses before you make your purchase. If you are going to be running your device on a regular basis you want to make sure it won't be hiking up your energy bill each month.
What Type of Features Does Your Filter Have?
There are a lot of great filters out there with some pretty special features. When searching for the best air purifier for pets, make a list of all the things you want your device to do. Do your research and get to know all the special functions pet filters can perform. Once you figure out all that you want in your filter, you can then make your purchase.
The Benefits of Having a Pet Filter in Your Home
There are so many added benefits that come with having an air purifier in your home. A purifier not only helps fight everyday pet odors, but it also helps with so much more. A pet filter can help with allergies, reduce mold, airborne dust, and even pollen. If you want to experience what clean fresh air in a home feels like a pet filter would be a great option for you. Save on Honeywell and if you are looking for dehumidifiers, humidifiers, or just regular filters, we have those too.
Related resources:
Change the Furnace Filter