Installing a furnace can be a difficult home improvement job to undertake. Selecting a unit that fits your needs is half the battle. Space in your home is limited. Ideally, you will have room for your furnace in the attic, but installation up there can be difficult to manage. With the right tools and hardware, you can hang or mount your attic furnace installation securely and safely for optimal performance. Watch the pros, Phil and Jeff, demonstrate exactly how to install a furnace in an attic:
Furnace Installation Steps
Here is a basic overview of what you can find in the above tutorial video:
Mount two lengths of Unistruts to the rafters.
Mount Unistruts to your furnace.
Put the nuts in the mounted Unistruts into place so they can secure the all-thread rods (measure the distance between the Unistruts on the furnace and then determine how far apart you want your all-threads to be).
This part is a 3-man job. Have two people hold the furnace in place while another person uses nuts to mount the furnace to the all-threads.
Make sure the furnace is level.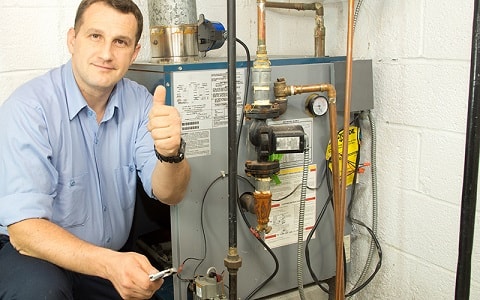 Ducane makes great furnaces, so you can't go wrong installing one of their units in your home. Be sure to follow Jeff's safety precaution and shut off the gas before beginning the installation process. Obviously, not everyone has a forklift, but you work with the tools you have. Call over a few friends or neighbors if you need the help. Lift with your legs and don't hurt your back! Do not forget to check your furnace installation with a level. We cannot emphasize this enough, but a crooked installation can become very problematic as you attach ductwork to the unit.
Parts for Attic Furnace Installation at PlumbersStock
Be sure to browse through the thousands of discount HVAC products, we carry here at PlumbersStock. We have gas furnaces, electric furnaces, and even furnace ignitors. We have all the tools and parts you need for an attic furnace installation. Now you know how to install a furnace unit in an attic space and can get to work. Let us know if you need any help.
Related resources:
Heat Load Calculation Formula
When to Change an HVAC Filter
What Size of AC Unit Do I Need?