HVAC diffusers are very important to the airflow of a home. Many customers ask, what do diffusers do? The quick answer is that they help regulate the airflow in your home, but there is a little more to it than that. HVAC diffusers help make your home more comfortable to live in and keep your heating and air conditioning running flawlessly.
What Is a Diffuser?
Diffusers are the vent covers through which climate-controlled air is delivered to a room. Floor, wall, and ceiling diffusers are common in both commercial and residential buildings. In a whole-home HVAC system, inevitably you are going to have rooms that get less use than others. By closing vents (halfway or all the way) you can exercise manual cost-savings control over your HVAC system. If a room gets little-to-no use, then shut the door and the diffuser, and allow the climate-controlling air to be channeled solely to areas of the home that need it. This will improve efficiency, effectiveness, and save you money.
Creating a Balance of HVAC Airflow in Your Home
Creating a happy balance of airflow in a house is very simple and can be done in a few straightforward steps. Balancing your HVAC not only makes a more comfortable house, but it also can help make a home run more efficiently. When your HVAC runs more efficiently, your utility bills will be much less each month, leaving your pocketbook more comfortable as well. If you are trying to regulate the temperature of your house, here are the appropriate steps to take.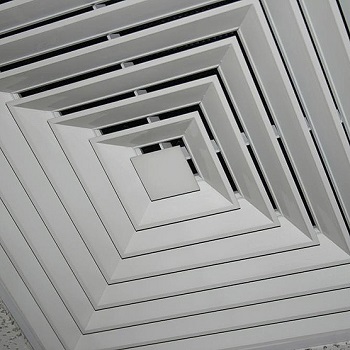 Step 1: Inspect the airflow of each room in your house. Walk through each room and decide which rooms are too cold, and which rooms are too warm. Take careful notes so you can go back and fix the ones which need fixing.
Step 2: Go through and check each HVAC diffuser in your home. Are any of them covered up by furniture or clutter? Are all the diffusers open & working properly? It's important to check these diffusers on a routine basis to make sure they are working correctly.
Step 3: Go through your house and adjust the diffusers in the rooms which are too hot or too cold. You can do this by simply moving the lever on your diffuser to open or close it. In many cases, closing a diffuser in a small room to the point that only a tiny bit of air comes out, will make it so a larger quantity of air will come out in a bigger room.
Once you have inspected each room in your house and adjusted it to the appropriate temperature, you can then enjoy peace and comfort in your home. You will love how even your temperature feels, and how much you end up saving on your energy bill each month.
Regulate Home Climate with Diffusers
Diffusers are the perfect way to regulate the temperatures in a home. They make it easy to close off the air to rooms that are never used, and provide peace and comfort to areas that are used. Just like you would never use a sewing machine without thread, you would never use a heating or air conditioning system without diffusers. The two work together hand in hand to provide optimal heating and cooling for your home. Check out this Shoemaker MA-DCF 14" x 14" diffuser.
At PlumbersStock, you can save big on ducting, dampers, and basically anything else you need to update your HVAC system. If you have enjoyed this article about what do diffusers do, please share it on social media.
Related resources:
How to Install Diffusers