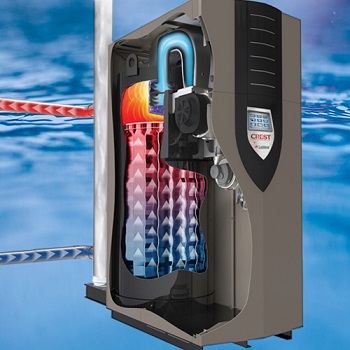 Many customers ask us what is a condensing boiler? It's not exactly the most common heating method for homeowners. A condensing hot water boiler is a much more efficient way to heat a home than a conventional boiler. In a normal conventional boiler, fuel is burned, and the hot gasses which are produced pass through a heat exchanger. Their heat is then transferred to water, raising the water's temperature. In a condensing boiler, the high efficiency is accomplished by pulling additional heat from the wasted gasses which aren't used in a conventional boiler. This is what allows condensing boilers to be so efficient.
These types of boilers are becoming much more popular, and are the way to go if you are looking to save energy in your home or commercial property.
What Can a Condensing Boiler do for You?
When it comes to purchasing a condensing boiler for your home you will also find with it a lot of added benefits. There are so many great reasons to purchase these amazing boilers. They are not only a great way to heat the home but have a lot of other advantages as well. Here are just some of the benefits that you will discover.
Advantages to Condensing Boilers
Saves Money
Because a condensing boiler is highly efficient, it should help save you money on your energy bill. The initial investment for this type of boiler might be more expensive, but in the long run, it will pay for itself. It could end up saving you hundreds of dollars. Individuals everywhere are always looking for a way to save money on energy. This option should be seriously explored
Another enormous way to save money with a condensing boiler is with a tax credit. Because these devices are so great for the environment, they are offering a tax credit to individuals who buy this type of boiler. Make sure you read up on the rules and regulations before making your purchase to make sure you qualify.
Longer Life Span
It's been said that the lifespan of a condensing boiler is much longer than a non-condensing one. Their longevity is part of what makes them a great option because it allows for more long term savings.
Convenience
Another great perk to a condensing boiler is their size. They are much smaller than non-condensing ones and don't take up as much room. Individuals everywhere love the convenient size of these smaller devices. They are perfect for smaller utility rooms that don't have a lot of space.
Installing a Condensing Boiler in Your Home
There are so many great reasons to install a condensing boiler in your home. Whether you are looking to save money or conserve energy, this amazing machine can do it all. If you are looking to install one of these boilers in your utility closet, do your research to see if they are for you. Once you discover all the amazing things that a condensing boiler can do, chances are you will want one installed in your home right away. Now that you know what is a condensing boiler you are better equipped to make a serious purchasing decision. Contact a professional at PlumbersStock for more information. Also, save on some great boiler brands here, like Lochinvar and Dunkirk.
Related resources:
What Is Radiant Heating?
What Size Boiler Do I Need?
Benefits of Baseboard Heating