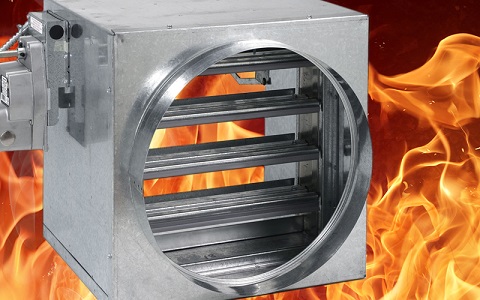 Though fire dampers can be a very important component of your heating and ventilation system, many people are unaware of exactly what is a fire damper. In the most simple terms, its function is to prevent fires and the spread of smoke within the ventilation and ductwork of homes and offices.
The fire damper works with fire-resistant walls and floors to keep buildings safe. Fire dampers are a great asset to any building because they do their part to keep us safe from a potential hazard.
Different Types of Fire Dampers
Fire dampers are designed to keep the fire from spreading through the ducting, as well as other types of openings in a building. Fire dampers usually come in few different styles; a dynamic fire damper, a static fire damper, and a smoke damper. It's important to know the differences between these dampers, and what they do to protect your home.
Dynamic vs. Static Fire Dampers
Static fire dampers are designed to cut off airflow when a fire strikes. They are usually triggered by a building's fire system. When this particular style of fire dampers closes, no air can pass through the ducts or any part of the building following them. This will keep the fire from spreading quickly through a building and prevents additional damages.
Dynamic fire dampers are approved for locations where the HVAC system's blower remains on during an alarm. This unique type of damper has to be powerful enough to close against moving air in order to perform its function and protect against the spread of fire.
Ensuring you get the HVAC part that is compatible to your needs is the important part, so if you are having trouble determining which damper fits your system, contact a professional (you can call us!).
Smoke Dampers
Smoke dampers are designed to slow the travel of smoke in a fire. They are made to keep smoke from entering parts of the house too quickly. This should give the homeowner or business owner enough time to call for help before the smoke damages all their belongings. They are usually triggered by a smoke detection system or can be controlled by a wireless remote.
Combination Dampers
These unique devices are designed to stop the travel of smoke and flame in a fire. They come in both static and dynamic styles and are a great option for your home.
The Importance of Fire Dampers
Could you imagine what would happen to a home or office that didn't have fire dampers installed? Fire dampers are designed to prevent your home or office from major flames and smoke damage in the event of a fire. They try and keep damages to a minimum. They give firefighters a chance to get to a building and are designed to help individuals get out of a home or office safely. It's so important to read up on the latest building codes when you are installing fire dampers in a building. They are designed to help keep buildings and individuals safe, and can only do so when they are installed correctly.
Fire Dampers in Your Home and Office
We all like to feel safe when we are at home, or working in our office. It's a good feeling to know that when you have dampers installed in your building correctly, you should have enough time to get out before the entire thing goes up in flames. By keeping up with the latest rules and regulations with fire dampers, you are doing your part to keep you and your loved ones safe from any potential fires (which hopefully don't come your way).
If you found this helpful in answering the question of what is a fire damper, please share it on social media. Also, remember to save on Shoemaker here at PlumbersStock.
Related resources:
How to Clean In-Wall Dryer Vent
How to Reduce Ductwork
How to Install a Diffuser
How to Use Duct Seal
What Do Diffusers Do?
Connect Ducting